The biggest navigation change since the existence of the app. The navigation was completely restructured around a new design pattern.In addition, important more future-forward components were included - personalized messaging system, promotions, and dynamically added server-side features. Due to the extent of changes, many explorations were done with multiple rounds of user research. This project was created and lead by the Customer Experience team. I was the lead user experience architect and I was responsible for the majority of exploration, specification. I collaborated with visual designers, development, and product management to define requirements, prepare patterns for future usage in code, began conversation about upgrading our web services to support a future personalized messaging engine.
Highlights
Re-architecting and Redesign Home Screen Pattern
Visual Design System Update
Foundational Module System Work
Predictive Experience with a Personalized Messaging Engine
Hybrid (Native and Web) Shop Products Experience
Experience Solutions for Integrating Marketing Capabilities
Experience Vision
After a lot of ideating, competitive analysis, customer data, three principles were determined to be the vision for the Walgreens app's future vision. They were:
Dynamic - experience should be able to update without an app release, be highly interactive, and consistently engaging.
Contextual - experience should be aware of a users current context, based on location, time of day, seasonality, etc.
Personalized - experience should initiate based of app engagement, account activity, and any behavior monitored by Walgreens.
Ideation
Due to the immensity of the impact of a home screen change, I started early developing many design ideas. Ideas ranged from basic UI structure, to building blocks, to full concepts.
This slideshow requires JavaScript.
Research Concepts
Concepts were vetted internal as well as four rounds of user research. Research included 2 early generative research and concept evaluation, a formative concept evaluation in-person usability test, and a final validation usability test.
This slideshow requires JavaScript.
Early Prototype (Drawer): http://bhotf9.axshare.com/
Early Prototype (Tabs): http://3el7sa.axshare.com/
Near Final Prototype: http://az7zdp.axshare.com/
Strategic Acceptance
The CX Director and I had to present to many key stakeholders the new design due to level of impact.
This slideshow requires JavaScript.
Wires
This slideshow requires JavaScript.
Before and After
Outcomes
App Store rating increased (Android 4.1 to 4.2) and raised CSat scores to all-time highs (+2pts).
2x sales increase of photo products, especially iOS. Due to fixing usability issues on the product selection screen plus adding space for a promotional spot.
Future positioning for personalization and predictive experience.
40% conversion on widgets, even with over displaying widgets.
Press
http://mobihealthnews.com/46223/walgreens-gets-5-3-million-app-driven-store-visits-per-week/
http://www.mobilecommercedaily.com/walgreens-new-app-anticipates-users-needs-with-intelligent-messaging
http://www.kantarretailiq.com/Conversation/ConversationDetails.aspx?id=844313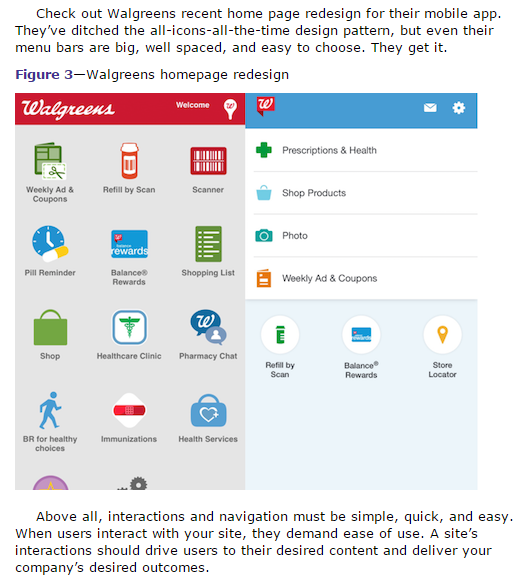 http://www.uxmatters.com/mt/archives/2016/04/what-the-past-five-years-have-taught-me-about-ux-design-part-1.php